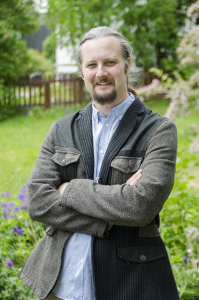 Born in Sweden to an artistic family, he was surrounded with music and handcraft from a young age. Max began in music as a percussionist but wanted to learn a more melodic instrument. The Swedish bagpipes in particular caught his attention after hearing it at a festival. He purchased one from a local maker and taught himself to play. He soon realized the many limitations that comes with a traditional Säckpipa. From 1998 Max started designing and making improvements to his own instrument to modernize it and make it more accessible.
In 2004, Max was invited by renowned border pipe maker Jon Swayne to his workshop in Glastonbury England. Here he learned the fundamentals of making border pipes, along with Jon's different tools and techniques. Jon have through the years been a great insperation for Max Persson's work. Currently, Max play in several folk music groups and is an active soloist. He is also a blacksmith and runs his two workshops under the same roof in Rimbo, north of Stockholm.
---
If you want listen to my instruments, visit my Youtube channel.
---
maxbagpipes@gmail.com

+46 (0) 73 959 7638

Ulriksdalsvägen 4

762 51 Rimbo

Sweden